Phonealytics "Mango" Update Preview
31 Jul 2011
I have been talking up some substantial updates to the live tiles used in my Windows Phone Google Analytics app Phonealytics for some time now. Over the weekend I finally got round to getting started implementing them. The result is a button you can press on your site's profile page (the first page you get to when you press a site) to pin a live tile of that site to your home screen.
You can pin as many tiles as you like (although I think the background process might struggle with 5+) with the tiles taking the settings for date range (day, week, month, year) of Phonealytics when pinned. The tiles themselves show a bit more data than the current ones with the front of the tile showing visits and % change, the tile will occasionally flip to reveal the bounce rate and time on site. Pressing a tile from the home screen will take you directly the the details of that site in Phonealytics.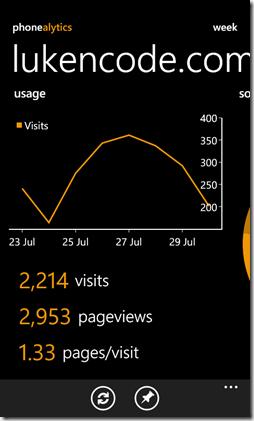 These new live tiles are updated entirely from your phone so should be much more reliable than the current tile. The update will be submitted as soon as Microsoft allows mango app updates and hopefully should be ready to go as your phone is updated to mango. The new tiles will definitely be available on the paid version of Phonealytics and possibly will come to the free version eventually now that I don't need to run a server for them. I am planning on making them a bit more interesting visually to stand out a tad from the sea of ["PhoneAccent"] on everybody's home screen, any suggestions for the look of the tiles (or anything else) would be awesome.
For those of you who haven't got the app you can pick it up from the zune marketplace or grab the free version.